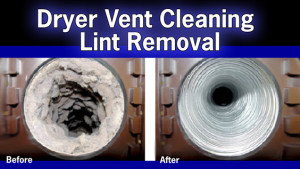 For many homeowners not only in Parkland but across the United States, a clothes dryer is an indispensable convenience and necessity in their homes. However, a dryer can be hazardous if not well taken care of. Clogged dryer vents pose a great fire risk that can destroy your property and also lead to deaths. In addition, dirty and clogged dryer vents pushes your monthly energy bills to sky-high levels. Cleaning your dryer vents on a regular basis can save you money in terms of lower utility bills and it also ensures that you are living in a safe environment. At Parkland Air Conditioning Repair, we are here to offer you and your family comprehensive and competitively priced dryer vent cleaning services.
Dangers of Dirty and Clogged Vents
According to a research conducted on clothes dryer fires in residential buildings between 2008 and 2010 by the U.S. Fire Administration (USFA), approximately 2,900 clothes dryer fires happen each year across the United States. This leads to around 5 deaths, 100 injuries as well as over $35 million in property damage. According to the report, dryer fires were more rampant in fall and winter months. Failure to clean dryer vents on a regular basis was the leading cause contributing to the ignition of clothes dryer fires at 34 percent.
Apart from posing fire hazard, dirty and clogged dryer vents also cause your dyer to operate inefficiently thus consuming huge amounts of energy leading to increased monthly energy bills. This in turn weakens the dryer thus considerably shortening its lifespan.
Telltale Signs Your Vents Need Cleaning
It is of paramount that you take the necessary precaution as a homeowner to ensure that your dryer vent is inspected and cleaned on a regular basis by a professional HVAC contractor. Some of the signs that it's time for professional dryer vent cleaning are:
Clothes taking longer than usual to completely dry
A musty odor from the clothes after the drying session
After a drying cycle, clothes becoming unusually hot
Partial opening of the vent hood flap when the dryer is running
Noticeable dust and debris outside the dryer vent opening
Our Parkland Dryer Vent Cleaning Services
Our NATE-certified contactors at Parkland Air Conditioning Repair are rigorously trained and have the necessary expertise to deliver quality dryer vent cleaning service in your home. They are well equipped with state-of-the-art tools that enable them to access bends and even the innermost sections of your dryer vents. This leaves your dryer vents dirt and debris-free thus increasing the efficiency of your dryer which has a ripple effect of reducing your energy costs.
Apart from cleaning the dryer vents, we also inspect the entire system to ensure every component is in good working condition. If there are some parts that are not functioning well, we carry out the necessary repairs.
The best thing about our dryer vent cleaning services is that they come with a 100% satisfaction guarantee which means we will not leave your home until you are fully satisfied with the work done.
If you are a resident of Parkland and the surrounding areas and your dryer vents need professional cleaning, do not hesitate to contact us 954-358-4256 at and we will be there to attend to them in the most professional and effective way.