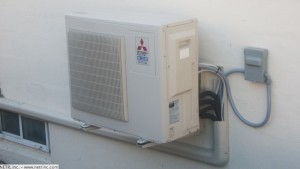 When the spring season comes, you can be sure that summer is on the way. Based on the high temperatures that the southern part of the United States including Florida has been experiencing, it is a high time you found an amicable solution for air conditioning beforehand. This is because waiting until summer knocks on your door can mean paying high prices in acquiring AC units as well as massive costs in repair and maintenance.
A lot of people tend to use spring as a time to reflect on AC systems and how prepared they are for the hot summer ahead.
If you have been thinking on what to invest in for your air conditioning needs, a ductless air conditioning system could just be the solution you need. This is because a ductless air conditioner which is also known as a split air conditioner has a long history of success on the market. Their reputation is strong and solid, but surprisingly lots of homeowners are yet to discover the full benefits of these systems.
To give you a head start, below are some of the benefits you can expect when you invest in a ductless air conditioner.
Efficiency
In a research study done by the Environmental Protection Agency, a typical American Family spends well over $1,000 each year on cooling and heating their homes. Switching to a ductless air conditioning unit can save you anything between 20 and 30% on your energy usage monthly.
Lower Utility Bills
Because of the enhanced efficiency, you are likely to pay less in terms of your utility bills because your energy usage has significantly gone down. From an environmental point of view, a ductless air conditioning system also helps in cutting down on your carbon footprint. A ductless air conditioning unit can therefore save you hundreds of dollars in energy expenditure.
Installation is a Breeze
Compared to central air conditioning systems which require professional installation, ductless air conditioners can be installed in a much easier and quicker way and anyone can do it. It is actually possible to install the ductless air conditioning system in less than a day.
Ease of Operation
Most ductless air conditioners come with a remote control that enables you to either lower or increase the temperature of the air that is coming from the unit. in case you are feeling cold in bed, all you need to do is to simply adjust the room temperature using a remote control without necessarily having to get out of bed.
Still under operation, a ductless air conditioning system is quiet and there is no much noise coming from it. This gives you the quietness in your homestead to concentrate on whatever tasks you have without there being a loud background noise.
Apart from the above, a ductless air conditioner can also function as a heater in the course of winter.